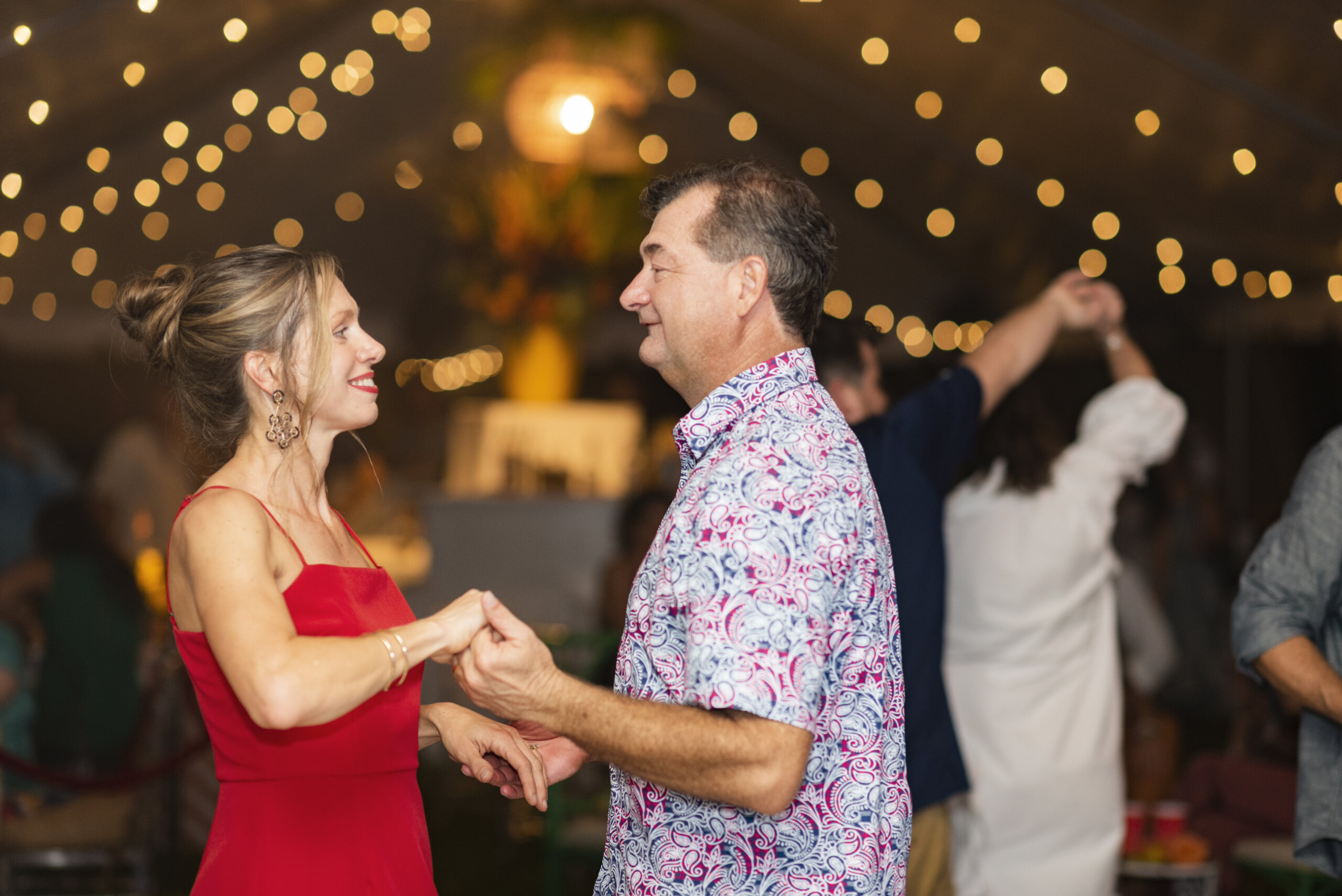 Happy Birthday Bryan and Lisa
"Hello David and the Staff at Classic City Catering,
Bryan and I would like to thank you for the top notch food, drinks and service that you provided for our Big 50th Party last Saturday night. Everything you did for us was amazing, and I keep hearing over and over again how wonderful the food was, as well as how great the service was. We are thrilled that you could help us make our event a perfect evening for everyone!
David, a special thank you to you for coordinating different rentals, as well as making yourself the go-to man for other vendors to talk to, so that I could be relieved from that. You know I really, really appreciated that above and beyond service!
Last, I included attachments of two photos one of our photographers got of your Ms. Angela with one of our fun party guests. I think they were dancing for a bit :). As amazing as all your servers and staff are, your Angela was extra special to me. She was laser-focused on making sure all was well with me, and could tell if I needed something. I also found out she is a "groupie" of the Modern Eldorados and she is the one who set up a couple of my favorite photos of the evening – photos with "the red baby" guitar! I hope you keep her with you forever – she's an amazing lady.
Thank you again for helping us throw the Birthday Party of our dreams!! Our best always to you and your business!!"- Lisa & Bryan
~Vendors~
Venue: Private Residence | Photography: Aislinn Kate Photography  | Catering and Bar: Classic City Catering | Decor: Fiore |Band: Modern Eldorados
~Menu~
~Kids Meals~
Classic Chicken Tenders with Honey Mustard & Ketchup
Seasonal Melons & Berries
Mac & Cheese
Cheese Pizza
Chocolate Chip Cookies
Juice Boxes
~Beverages~
Mini Water Bottles
Hibiscus Berry Tea with Orange Slices and Mint
Lemonade with Lemon & Lime
~Classic Cheese Board~
Shaved Imported and Domestic Wheels of Cheese
House Tortas, Brie en Croute and Cheese Rings
Strawberries, Grapes, Dried Fruits, Nuts and Apple Wedges
Crackers, Flatbreads, Crostini, Bagel Chips and French Rounds
~Charcuterie ~
Selection of Cured Meats, Olives, House Patés, Jams, Coarse Ground Mustard, East Hill Honey and Pickled Vegetables
~To Be Passed~
Tuna Two Ways
Tuna Tartare with Seaweed Salad, Pickled Ginger, Wasabi Aioli and Caviar
Wonton Crisp | Cusabi Cucumbers
~Fried Green Tomatoes Two Ways~
Tomato Ginger Jam with Microgreens
Candied Pork Belly, Basil Lime Mayo and Microgreens
Fried Oyster and Warm Brie Baguette with Creole Tartar Sauce
~Stations~
~Sliders, Griddles, & Grills~
Triple Grind Kobe Cheeseburger with Caramelized Onions
Buns, Bacon, Sweeties, & Pickles
Conecuh County Corn Dog with Creole Honey Mustard & Carolina Barbeque
Sesame & Teriyaki Chicken Skewers with Pineapple, Red Pepper, Sundried Tomato Aoili & Mango Currant Chutney
Yukon Gold and Sweet Potato Barrells with Fry Salt & Ketchup
Wood Grilled Baby Vegetables Splashed with Balsamic Vinaigrette
Curry and Romesco Sauces
Grilled Baby Romaine Caesar with Pumpernickel Croutons & Parmesan
~Sea Station~
Jumbo Gulf Shrimp & Crab Claws with Cocktail & Meyer Remoulade
Seared Sea Scallops with Tropical Fruit Salsa & Mint Cilantro Chimi Churri
West Indies Crab Salad with Avocado
Whole Smoked Grouper with Tomato Herb Salsa
Water Crackers, Crostinis and Flatbreads
Half Shell Oysters
Grilled with Citrus Saffron Beurre Blanc, Shaved Parmesan and Cornbead Crumble
~Sweets~
Birthday Cake from Betty Weber
Strawberry Cake
Happy Birthday Lisa & Bryan
~CCC Petite Sweets~
Key Lime with Citrus Whipped Cream
Chocolate Pecan Pie with Bourbon Whipped Cream
Vanilla Bean Gelato Shots
Peanut Butter Mousse Cups with Whipped Cream and Chocolate Sauce
Regular & Decaf Coffee
Cream, Sugar, & Chantilly
~Late Night Snacks~
Mini Muffalattas and Baby Pralines
~Specialty Cocktails~
~Orange Bourbon Mojito~
~Pink Lemonade Margarita~
Silver Tequila, Pink Lemonade, Triple Sec, Lime Juice and a Sugared Rim
Bourbon, Cubed Orange Chunks, Lemon Juice, Simple Syrup and Splash of Cranberry
~The Elderflower and Grapefruit G & T~
Tommy Bahama Island Gin, Tonic Water, Elderflower, and Grapefruit
https://classiccitycatering.com/wp-content/uploads/2021/09/Aylstock-Birthday-Party-2021-0412-1-scaled.jpg
1709
2560
Lauren
https://classiccitycatering.com/wp-content/uploads/2015/05/CCC-logo-300x158.png
Lauren
2021-09-10 13:25:52
2021-09-10 13:30:00
Happy Birthday Bryan and Lisa